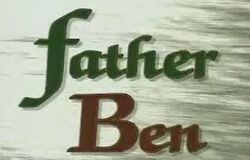 "This is really top notch stuff."

―Father Ted Crilly on Father Ben
Father Ben is a situation comedy which follows the lives of Roman Catholic priests, Father Ben and Father Brendan. It ran during 1996, but it is possible to have been airing before that year. Father Ted Crilly and Father Dougal McGuire follow the sitcom, often relating to both of the characters.
"That Brendan's an eejit."

―Father Dougal whenever he sees Father Brendan wearing a pair of shorts on his head
Behind the scenes
Appearance