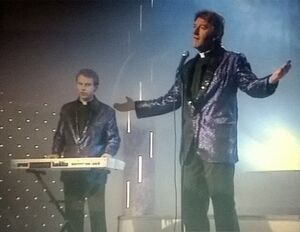 "The Miracle Is Mine" is the Eurosong '96 entry performed by Dick Byrne & Cyril MacDuff.
It is a sweet ballad that builds up to a rousing crescendo complete with backing musicians, the latter which leaves Ted Crilly and Dougal McGuire shocked after the former has been mocking it. Dick is even seen doing a spin and then accepting a rose from an audience member when the song ends.
However, it loses to 'My Lovely Horse', leaving Dick furious as he lost a bet he made with Ted.
Lyrics
When I was young, I had a dream
And though the dream was very small,
It wouldn`t leave me.
To be a beggar for a fee
To play the poet or the fool
And now you see me.
And now the miracle is mine
And fault and the war begun
And now there`s nothing left to hide,
Still I………

And now I`ve nothing left but time,
Still I reach out through this empty life.
Video